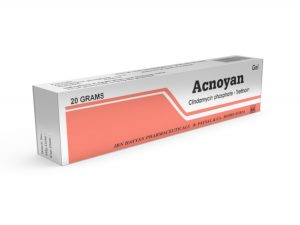 Packing :20g.
Form : Gel
Theraputic Categories : Dermatologic Drugs
Indications : For treatment of Acne  
Composition :Clindamycin phosphate 1.2% and Tretinoin 0.025%
Composition and excipents:
Active ingredients: (clindamycin phosphate 1.2% and tretinoin 0.025%).
Inactive ingredients: purified water, glycerin, carbomer 981, methylparaben, polysorbate 80, edetate disodium, citric acid, propylparaben, butylated hydroxytoluene, and tromethamine.
Mechanism of Action:
Clindamycin: Antibacterial agent that binds to the 50S ribosomal subunits of susceptible bacteria and prevents elongation of peptide chains by interfering with peptidyl transfer, thereby suppressing protein synthesis; reduces surface fatty acids on skin; exact mechanism of action in treating acne unknown.
Tretinoin: Exact mechanism unknown; appears to cohesiveness of follicular epithelial cells with decrease microcomedo formation; also increases turnover of follicular cells to cause extrusion of comedones
INDICATIONS:
Gel is used to treat severe nodular acne in adults and children who are at least 12 years old.
CONTRAINDICATIONS:
It is contraindicated if you are allergic to clindamycin or tretinoin,
Or if patient have:
Inflammation of your intestines.
Crohn's disease, ulcerative colitis.
Severe diarrhea caused by antibiotic medicine.
Patient should not use this product if he is also taking another antibiotic contains erythromycin, or using other skin medications that contain erythromycin.
This product should not be used on a child younger than 12 years old.
ADVERSE REACTIONS:
Emergency medical help should be taken if patient have any of these signs of an allergic reaction to Acne-gel: hives, difficult breathing; swelling of your face, lips, tongue, or throat.
This medicine should be stopped and call the doctor at once if patient has:
Severe redness, burning, stinging, or scaling of treated skin areas.
Diarrhea that is watery or bloody.
Common -gel side effects may include:
mild skin irritation, dryness or peeling;
mild skin redness; or
Itching of treated skin.
Warnings:                                                                                                                                                
Getting Gel in the eyes, mouth, or nose (or in the creases of the nose), or on the lips should be avoided. If it does get into any of these areas, it should be washed with water.
The gel shouldn't be applied to sunburned, wind burned, dry, chapped, irritated, or broken skin. Exposure to sunlight or artificial UV rays (sunlamps or tanning beds) should be avoided. This gel can make the skin more sensitive to sunlight and sunburn may result.
Washing treated skin or applying other skin products for at least 1 hour after applying this medicine should be avoided.
Using other medications on the areas treated with Gel should be avoided, unless the doctor tells patient to do so.
Using skin products that can cause irritation, such as harsh soaps, shampoos, or skin cleansers, hair coloring or permanent chemicals, hair removers or waxes, or skin products with alcohol, spices, astringents, or lime should be avoided.
The skin may be more sensitive to extreme weather such as cold and wind. Therefore it should be protected with clothing and using a moisturizing cream or lotion as needed.
Sunscreen should be used if the patient must be out in the sun.
Before using the Gel, the patient should tell the doctor if he has:
Any allergies.
A history of stomach or intestinal disorders.
Pregnancy and lactation:
Pregnancy category C: It is not known whether Gel will harm an unborn baby. Tell the doctor if the patient is pregnant or plan to become pregnant while using this medication.
Breast-feeding; It is not known whether clindamycin and tretinoin topical passes into breast milk or if it could harm a nursing baby. Breast-feed should be avoided while using this medicine.
Drug Interactions:
It is not likely that other drugs taken orally or by injection will have an effect on topically applied clindamycin and tretinoin. However, many drugs can interact with each other. The doctor should be told about all medicines patient use, including prescription and over-the-counter medicines, vitamins, and herbal products.
DOSAGE AND ADMINISTRATION:
The Gel should be used exactly as the doctor has prescribed it for patient. It should not be used in larger or smaller amounts or for longer than recommended.
The hands should be washed before and after applying this medication.
The face should be washed with a mild soap or cleanser and the skin patted dry with a clean towel.
Only a pea-sized amount of gel should be Used and Applied to the entire face every night at bedtime.
The face should not be washed more than 3 times daily while using this medication, Washing more often or scrubbing the face when patient wash it can make the acne worse.
Packaging: Carton box contains aluminum tube 20 g with leaflet.
Storage conditions:  Store at room temperature between (15-30) °C, do not freeze