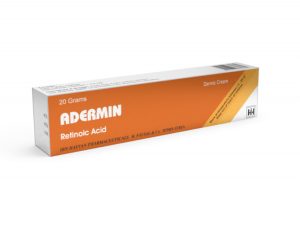 Packing :20 g.
Form : Cream
Theraputic Categories : Dermatologic Drugs
Indications : Retinoid derivative, used for acne vulgaris.
Composition :Retinoic acid 0.5 mg./g.
Composition: ADERMIN cream contains tretinoin (retinoic acid) 0.05% (each 1g cream contains 0.5 mg tretinoin).
Pharmacological properties:
retinoic acid (tretinoin) is the tissue active metabolite of Vitamin A .
The general effect of ADERMIN is that the proliferative activity of epidermal cells is greatly enhanced, associated with changes in cellular differentiation (keratinisation and cornification), resulting in diminished keratinisation.
Indications:
ADERMIN Cream is indicated for topical application in the treatment of acne vulgaris , primary grades I-III in which comedones, papules and pustules predominate.
Contraindications:
The product should not be used if there is hypersensitivity to any of the ingredients.
warnings:
– ADERMIN should be used according to the instructions of the physician, the patient should not be discouraged as the results may take 12 weeks to appeare . The patients should not stop the treatment by himself.
– Wheather extremes such as wind or cold should be avoided , burns and dryness of the skin may occur during treatment.
Exposure to sunlight should be minimized during the use of ADERMIN, and patients with sunburn should be advised not to use the product until fully recovered because of heightened susceptibility to sunlight as a result of the use of tretinoin.
Use of sunscreen products and protective clothing over treated areas is recommended when exposure cannot be avoided.
Soaps and cosmetics that have a strong drying effect, and products with high concentration of alcohol, should be used with caution because of possible interaction with tretinoin.
ADERMIN should be kept out of the eyes, the mouth, angles of the nose and mucous membranes.
If medication is applied excessively, no more rapid or better results will be obtained and marked redness, peeling, or discomfort may occur.
Studies in mice suggested that tretinoin could enhance photocarcinogenesis. However, other studies refuted this and evidence indicates that topical tretinoin is not carcinogenic in humans.
Pregnancy : category C :
ADERMIN should not be used during pregnancy unless (by the judgement of the physician) the potential benefit is outweigh the potential risk to the fetus. Caution should be exercised when ADERMIN is administered to nursing mothers.
Drug interactions:
Concomitant topical medication should be used with caution because of possible interaction with tretinoin. Particular caution should be exercised in using preparations containing peeling agents (such as sulphur, resorcinol, or salicylic acid) with ADERMIN. It also is advisable to rest a patient's skin until the effects of peeling agents subside before use of ADERMIN is started.
Side effects:
Topical use may induce severe local erythema and peeling at the site of application.
Tretinoin has been reported to cause severe irritation on eczematous skin and should be used with utmost caution in patients with this condition.
The skin of certain sensitive individuals may become excessively red, edematous, blistered, or crusted if these effects occurs, the medication should be discontinued.
True contact allergy to topical tretinoin is rarely encountered. Temporary hyper- or hypopigmentation has been reported with repeated application of ADERMIN.
These side effects are reversible when ADERMIN is discontinued.
Dosage and administrations:
The patients should wash his face with gentle soap and entirely dry it before applying the cream.
ADERMIN Cream should be applied once a day, before retiring, (or according to instructions of the physician) to the skin where acne lesions appear, using enough to cover the entire affected area lightly.
During the early weeks of therapy, an apparent exacerbation of inflammatory lesions may occur. This is due to the action of the medication in deep, previously unseen lesions and should not be considered a reason to discontinue therapy.
Therapeutic results should be noticed after two to three weeks, Once the acne lesions have responded satisfactorily, it may be possible to maintain the improvement with less frequent applications, or other dosage forms.
Packing: tube containing 20 gram.
Storage: ADERMIN cream should be stored below 25°C.