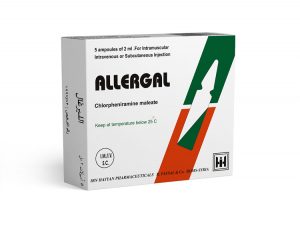 Packing :5 amp.
Form : Ampoules
Theraputic Categories : Otologic Drugs
Indications : 1st gen. Sedating antihistamine. (H1-receptor antagonist)
Composition :Chlorpheniramine maleate 10 mg./ 2ml.
Composition :
Each ampoule 2 ml  contains : 10 mg Chlorpheniramine Maleate .
Properties :
Antihistamines, including Chlorpheniramine, used in the treatment of allergy act by competing with histamine for H1-receptor sites on cells and tissues. Chlorpheniramine also has anticholinergic activity.
The mechanism by which Chlorpheniramine exerts its anti-emetic, anti-motion sickness and anti-vertigo effects is not precisely known but may be related to its central actions. Further, most antihistamines, including Chlorpheniramine, cross the blood-brain barrier and probably produce sedation largely by occupying H1-receptors in the brain.
Pharmacokinetic Properties :
Following iv administration, the apparent steady-state volume of distribution of Chlorpheniramine is approximately 3L/kg in adults and 3.8L/kg in children. Chlorpheniramine is approximately 70% bound to plasma proteins. In adults with normal renal and hepatic function, the terminal elimination half-life of Chlorpheniramine reportedly ranges from 12 to 43 hours.
The systemic exposure per mg dose is lower in children than adults and the elimination half-life may be shorter .
Indications :
ALLERGAL (Chlorpheniramine Maleate) is administered in the treatment of various allergic reactions including urticaria, perennial allergic rhinitis, hay fever, angioneurotic oedema, systemic allergic reactions to injections, and insect bites.
Contra indications :
ALLERGAL (Chlorpheniramine Maleate) should not be given in the following conditions :
– Premature infants or neonates
– During attacks of asthma .
– Patients who are hypersensitive to antihistamines or to any of the other     ingredients .
– In patients who have been treated with MAOIs within the last fourteen days because the anticholinergic properties of Chlorpheniramine are intensified by monoamine oxidase inhibitors (MAOIs).
– Many antihistamines should be avoided in acute porphyria .
Cautions :
Chlorpheniramine should be given with caution to patients with the following disorders :
Narrow angle glaucoma, Prostatic hypertrophy, urinary retention and pyloroduodenal obstruction .
Antihistamines should be used with caution in hepatic disease .
Caution may be required in epilepsy.
Chlorpheniramine Maleate may cause drowsiness, patients so affected should not drive or operate machinery.
Side Effects :
Drowsiness is a significant side-effect with most of the older antihistamines  although paradoxical stimulation may occur rarely. Drowsiness may diminish after few days of treatment.
The more common side-effects with the older antihistamines include :
headache, psychomotor impairment, and antimuscarinic effects such as urinary retention, dry mouth, blurred vision, and gastro-intestinal disturbances.
Other rare side-effects of antihistamines include hypotension, palpitation, arrhythmias, extrapyramidal effects, dizziness, confusion, depression, sleep disturbances, tremor, convulsions, hypersensitivity reactions , blood disorders, liver dysfunction, and angle-closure glaucoma.
Also exfoliative dermatitis and tinnitus reported; injections may cause
transient hypotension or CNS stimulation and may be irritant.
Use in Pregnancy :
There is inadequate evidence of safety in human pregnancy. Clorpheniramine injection should only be used during pregnancy when clearly needed and when the potential benefits outweigh the potential unknown risks to the foetus. Use during the third trimester may result in reactions in neonates.
 Use in Lactation :
Significant amount of some antihistamines present in milk; The use of Clorpheniramine injection in mothers breast-feeding their babies requires that the therapeutic benefits of the drug should be weighed against the potential hazards to the mother and baby.
Drug Interactions :
– Alcohol: increased sedative effect when antihistamines given with alcohol .
– Analgesics: sedative effects possibly increased when sedating antihistamines given with opioid analgesics .
– Antidepressants: increased antimuscarinic and sedative effects when  antihistamines given with MAOIs or Antidepressants .
– Antimuscarinics: increased risk of antimuscarinic sideeffects when antihistamines given with antimuscarinics .
– Antivirals: plasma concentration of Clorpheniramine (chlorpheniramine) possibly increased by lopinavir .
– Anxiolytics and Hypnotics: increased sedative effect when antihistamines given with anxiolytics and hypnotics.
– Betahistine: antihistamines theoretically antagonize effect of betahistine
Overdoseage :
The estimated lethal dose of Clorpheniramine is 25mg to 50mg/kg body weight.
Symptoms and signs include sedation, paradoxical stimulation of the CNS, toxic psychosis, seizures, apnoea, convulsions, anticholinergic effects, dystonic reactions and cardiovascular collapse including arrhythmias Symptomatic and supportive measures should be provided with special attention to cardiac, respiratory, renal and hepatic functions, and fluid and electrolytic balance. CNS convulsions may be treated with iv diazepam. Haemoperfusion may be used in severe cases.
Dose :
By intramuscular injection or by intravenous injection over 1 minute
Adult : 10 mg, repeated if required up to 4 times in 24 hours.
CHILD
( 1–6 months ) : 250 micrograms/kg (max 2.5mg), repeated if required up to 4 times in 24 hours.
(6 months–6 years) : 2.5 mg, repeated if required up to 4 times in 24 hours.
(6–12 years) : 5 mg, repeated if required up to 4 times in 24 hours .
Special precaution for storage :
Store at temperature below 25º  C. Keep the container in the outer carton in order to protect from light .
Packing : Box  containing (5-25) ampoules .