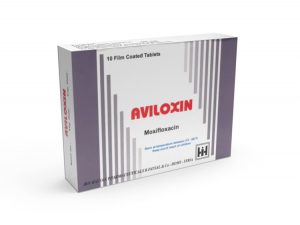 Packing :10 tab.
Form : F.C.Tablets
Theraputic Categories : Anti- infectives
Indications : Floroquinolone antibacterial
Composition :Moxifloxacin (HCl) 400 mg.
Composition:  Each film coated tablet contains: Moxifloxacin (HCl) 400 mg.
Pharmacological Properties :             
Aviloxin ( Moxifloxacin Hydrochloride ) is a novel synthetic fluoroquinolone antibiotic with a broad spectrum antibacterial effect for oral administration.
Aviloxin has in vitro activity against a wide range of Gram – positive and Gram – negative microorganisms.
The bactericidal action of moxifloxacin results from the inhibition of the topoisomerase II ( DNA Gyrase ) and topoisomerase IV required for the bacterial DNA replication, transcription, repair, and recombination.
The mechanism of action for quinolones, including moxifloxacin, is different from that of microlides, beta-lactams, aminoglycosides, or tetracyclines, therefore, microorganisms resistant to these classes of drugs may be susceptible to moxifloxacin and other quinolones.
There is no known cross-resistance between moxifloxacin and other classes of antimicrobials.
Pharmacokinetics:
Moxifloxacin oral tablets are well absorbed from the GIT. The absolute bioavailability of moxifloxacin is approximately 90 percent, co-administration with a high fat meal does not affect the absorption of moxifloxacin.
The mean elimination half-life from plasma is 12 ± 1.3 hours. Steady state is achieved after at least three days with a 400 mg once daily regimen.
Maximal concentration is attained 1 – 3 hours after oral dosing. The plasma concentration increase proportionally with dose up to the highest dose tested ( 800 mg single dose ).
Moxifloxacin is approximately 50 % bound to serum proteins, independent of drug concentration. It is considerably distributed throughout the body, with tissue concentrations often exceeding plasma concentrations.
Moxifloxacin has been detected in the saliva, nasal and bronchial secretions, mucosa of the sinuses, skin blister fluid, and subcutaneous tissue, and skeletal muscle following oral administration of 400 mg.
The rates of elimination of moxifloxacin from tissues generally parallel the elimination from the plasma.
Approximately 45 % of an oral dose of moxifloxacin is excreted as unchanged drug
( about 20 % in the urine and 25 % in feces ).
Microbiology:
Moxifloxacin has been shown to be active against most strains of aerobic and anaerobic Gram-positive and Gram-negative microorganisms, and is used in the treatment of adult with infections caused by susceptible strains of microorganisms including staphylococcus aureus, streptococcus pneumoniae, haemophilus influenzae and parainfluenzae, klebsiella pneumoniae, streptococcus pyogenes, escherichia coli, klebsiella oxytoca, proteus mirabilis.
And other microorganisms including chlamydia pneumoniae and mycoplasma pneumoniae.
Indications:
Aviloxin is used in the treatment of adults with the following infections :
– Acute bacterial sinusitis.
– Acute bacterial exacerbation of chronic bronchitis.
– Community aquired pneumonia ( of mild to moderate severity ).
Contraindications:
-Moxifloxacin is contraindicated in persons with a history of severe hypersensitivity to moxifloxacin or any member of the quinolone class of antimicrobial agents.
-It should be used with caution in patients with incorrected recent hypokalemia.
Precautions :
-Moxifloxacin should be used with caution in patients with ongoing proarrhythmic conditions, such as clinically significant bradycardia, acute myocardial ischemia. Therefor the recommended dose should not be exceeded.
-Noxifloxacin may add to the QTc prolonging effects of the other drugs such as cisapride, erythromycin, antipsychotics, and tricyclic antidepressants.
– Due to the lack of clinical data, the use of moxifloxacin is not recommended with moderate and severe hepatic insufficiency.
– Moxifloxacin should be used with caution in patients with known or suspected CNS disorders ( e.g. severe cerebral arteriosclerosis, epilepsy) or in the presence of other risk factors that may predispose to seizures or lower the seizure threshold.
– Moxifloxacin should be discontinued at the first appearance of a skin rash or any other signs of hypersensitivity.
– As a general rule, serious anaphylactic reaction require immediate emergency treatment with epinephrine.
– Moxifloxacin should be avoided in patients receiving quinidine, procainamide, amiodarone, sotatol, and antiarrhythmic agents.
Drug Interactions :
– Cross resistance has been observed between moxifloxacin and other fluoroquinolones against Gram-negative bacteria.
Gram-positive bacteria resistant to other fluoroquinolones may, however, still be susceptible to moxifloxacin.
– As with all other quinolones, iron and antiacids significantly reduce the bioavailability of moxifloxacin, therefore, moxifloxacin should be taken at least 4 hours before or 8 hours after antiacids containing magnesium or aluminium, as well as sucralfate, metal cations such as ferrous sulfate, and multivitamin preparations with zinc.
– Concomitant administration of a nonsteroidal anti-inflammatory drug with a quinolone may increase the risk of CNS stimulation and convulsions.
– Administration of class IA and class III antiarrhythmic drugs in conjunction with moxifloxacin should be avoided.
Side Effects :
Aviloxin is generally well tolerated, the most common side effects caused by Aviloxin, which are usually mild include nausea, vomiting, stomach pain, diarrhea, dizziness and headache.
Additional events which may be at least possible drug related were asthenia, moniliasis, peripheral edema, vasodilatation, tachycardia and palpitation.
Adverse effects which may rarely occur include dry mouth, constipation, anorexia, gastritis, skin rash and sweating have been reported.
Use In Pregnancy :
Since there are no adequate and well controlled studies in pregnant women, mixifloxacin should be used during pregnancy only if the potential benefit justifies the potential risk to the fetus.
Nursing Mothers :
Moxifloxacin may be excreted in human milk. Because of the potential for serious adverse reactions in infants nursing from mothers taking moxifloxacin, a decision should be made whether to discontinue nursing or to discon tinue the drug, taking into the account the importance of the drug to the mother.
Pediatric Use :
Safety and effectiveness in pediatric patients and adolescents less than 18 years of age have not been established.
Dosage and Administration :
The dose of Aviloxin is one ( 400 mg ) tablet taken orally every 24 hours. Patients should observe taking the tablet with adequate quantity of water.
The duration of therapy depends on the type of infection as described below :
– Acute bacterial sinusitis : The daily dose is one tablet for 10 days.
– Acute bacterial exacerbation of chronic bronchitis : The daily dose is one tablet for 5  days.
– Community aquired pneumonia : The daily dose is one tablet for 10 days.
Packing :   Box of 10 and 20 film coated tablets.