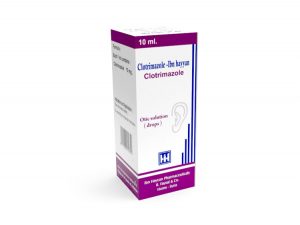 Packing :10 ml
Form : Otic Drop
Theraputic Categories : Otologic Drugs
Indications : Topical anti-fungal 
Composition :1% Clotrimazole
Composition:
Each Clotrimazole Ibn Hayyan ear drops contains:
Active ingredient: Clotrimazole 1% .
           Inactive ingredients: Polyethylene Glycol.
Pharmacological properties:
Clotrimazole acts against fungi by inhibiting ergosterol synthesis. Inhibition of ergosterol synthesis leads to structural
and functional impairment of the fungal cytoplasmic membrane.
Clotrimazole has a broad antimycotic spectrum of action in vitro and in vivo, which includes dermatophytes, yeasts, moulds, etc.
Indications:
Clotrimazole Solution should be used to treat all fungal skin infections due to dermatophytes, yeasts, moulds and other fungi.
It is particularly suitable for use on hairy skin and in fungal infections of the outer ear (otitis externa) and middle ear (otomycoses).
Contraindication:
Hypersensitivity to clotrimazole or any of the excipients.
Warnings and Precautions:
Dosage and Administration:
Canesten Solution should be thinly and evenly applied to the affected area 2 or 3 times a day and gently rubbed in. A few drops are enough to treat an area of about the size of the hand. To prevent relapse, treatment should be continued for at least two weeks after the disappearance of all signs of infection.
There is no separate dosage schedule for the elderly or the young.
Pregnancy:
Animal studies with clotrimazole have shown reproductive toxicity at high oral doses. At the low systemic exposures of clotrimazole following topical treatment, harmful effects with respect to reproductive toxicity are not predicted.
Clotrimazole can be used during pregnancy, but only under the supervision of a physician or midwife.
           Lactation:
A decision must be made whether to discontinue breast-feeding or to discontinue/abstain from clotrimazole therapy taking into account the benefit of breast-feeding for the child and the benefit of therapy for the woman.
          Side effects:
Immune system disorders: allergic reaction (syncope, hypotension, dyspnea, urticaria).
Skin and subcutaneous tissue disorders: blisters, discomfort/pain, oedema, erythema, irritation, peeling/exfoliation, pruritus, rash, stinging/burning.
Overdose:
No risk of acute intoxication is seen as it is unlikely to occur following a single dermal application of an overdose (application over a large area under conditions favourable to absorption) or inadvertent oral ingestion. There is no specific antidote.
However, in the event of accidental oral ingestion, routine measures such as gastric lavage should be performed only if clinical symptoms of overdose become apparent (e.g. dizziness, nausea or vomiting). Gastric lavage should be carried out only if the airway can be protected adequately.
Storage: Keep at temperature (2-30 C°).
Package: Plastic container with a dropper applicator, containing 10 ml of Clotrimazole-Ibn Hayyan solution.