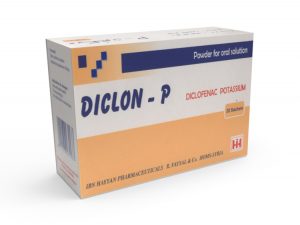 Packing :20 sachet
Form : Powder
Theraputic Categories : Analgesics
Indications : NSAID
Composition :Diclofenac potassium 50 mg.
Composition : Each sachet contains 50mg diclofenac potassium as powder for oral solution.
Pharmacodynamics :
DICLON-P is a non-steroidal anti-inflammatory drug with analgesic, , and antipyretic properties.
Inhibition of prostaglandin biosynthesis by diclofenac is considered fundamental to its mechanisn of action. Prostaglandins play a major causative role in inflammation, pain and fever.
DICLON-P sachets have a rapid onset of action which makes them particularly suitable for the treatment of acute painful and inflammatory conditions.
Pharmacokinetics:
Diclofenac is rapidly and completely absorbed from diclofenac potassium powder. Absorption begins immediately after administration.
Mean peak plasma concentrations of 5.5µmol/litre are attained within 5-20 minutes of administration of the content of 50mg sachet.
In pharmacokinetic study comparing the sachets with the tablets was done in adults (>18years of age) , The important findings that the mean peak plasma concentration following ingestion of the powder is more than double that of the tablet (1.62, 2.71); the time to achieve this peak plasma concentration is approximately halved and the exposure to each formulation as measured by AUC0-∞ is approximately the same.
Diclofenac is bound to serum proteins at 99.7%, mainly to albumin (99.4%).
Its apperarent volume of distribution is 0.12 – 0.17 litres/kg.
Diclofenac enters the synovial fluid, where maximum concentrations are measured 2-4 hours after peak plasma level are reached.The apperant half-life of elimination from synovial fluid is 3-6 hours.
The total body clearance of diclofenac from plasma is 263 ± 56 mL/min ,The terminal half-life in plasma is 1 to 2 hours.
Approximately 60% of the dose administered is excreted in the urine as metabolites.
As against less 1% as unchanged substance. The rest of the dose is eliminated as metabolites via the bile in the faeces.
Characteristics in Patients:
– No relevant age-dependent differences in the absorption, metabolism, or excretion of diclofenac have been observed.
– In patients suffering from renal impairment, no accumulation of the unchanged active Substance can be inferred from the single-dose kinetics when applying the usual dosage schedule.
At a creatinine clearance of <10 mL/min, the theoretical steady-state plasma concentrations of metabolites are about four times higher than in normal subjects. However,the metabolites are ultimately cleared through the bile.
– In the presence of impaired hepatic function (chronic hepatitis, non-decompensated cirrhosis), the kinetics and metabolism of diclofenac are the same as in patients without liverdisease.
INDICATIONS:
– Postoperative inflammation and pain. e.g. following dental or orthopaedic surgery
– painful post-traumatic inflammatory states, e.g. due to sprains.
– Painful and/or inflammatory gynaecological conditions, e.g. primary dysmenorrhoea or adnexitis.
– Migraine attacks, with or without aura
– As an adjunct in severe, painful, inflammatory infections of the ear, nose or throat, e.g. pharyngotonsillitis, otitis.
– Painful syndromes of the vertebral column.
– Non-articular rheumatism.
CONTRAINDICATIONS:
– Known hypersensitivity to the active substance or any of the excipients.
– History of allergic conditions (such as bronchospasm, acute rhinitis, nasal polyps,  urticaria) following ingestion of acetylsalicylic acid or other nonsteroidal  anti-inflammatory drugs (NSAIDs).
– Administration during the third trimester of pregnancy .
– Active gastric and/or duodenal ulcers, or gastrointestinal bleeding.
– Inflammatory intestinal disease such as Crohn's disease or ulcerative colitis.
– Severe heart failure
– Severe liver failure
– Severe kidney failure (creatinine clearance < 30 ml/minute).
– Children under 14 years of age.
SIDE EFFECTS :
– The common side effects are Elevation of serum aminotransferase (AST, ALT), occasionally moderate (> 3 times the upper limit of normal) or marked (> 8 times the upper limit of normal).
– Uncommon side effect : Headache , light headedness, dizziness , epigastric pain , other gastrointestinal reaction such as nausea, vomiting, diarrhoea , abdominal cramps, dyspepsia , flatulence and loss of appetite , rash.
– Rare side effects  : Hypersensitivity reactions such as asthma and systemic anaphylactic/anaphy­lactoid reactions with loss of blood pressure. , Somnolence ,  Urticaria , Oedema , Gastrointestinal bleeding (haematemesis, melaena, bloody diarrhoea), gastric or intestinal ulceration with or without bleeding or perforation, Hepatitis, with or without jaundice, fatigue.
WARNING AND PRECAUTION:
– Patients with gastrointestinal disorders, impaired liver function or a history suggestive of gastric or intestinal ulcer should be kept under close medical supervision during treatment. Gastrointestinal bleeding or ulceration/perforation generally have more serious consequences in the elderly.
– As with other NSAIDs, levels of one or more liver enzymes may increase during treat­ment with DICLON-P. Elevated enzyme levels were generally reversible after discontinuation of the drug.
– DICLON-P should be discontinued if liver function disturbance persists or worsens, if clinical signs and symptoms consistent with liver disease (e.g. hepatitis) develop, or if other manifestations occur (e.g. eosinophilia, rash).
– Caution is called for when using DICLON-P in patients with hepatic porphyria, since it may trigger an attack.
– Owing to the importance of prostaglandins in maintaining renal blood flow, particular caution is called for in patients with impaired cardiac or renal function, in the elderly, in patients being treated with diuretics, and in patients with extracellular volume depletion of whatever cause (e.g. peri/post-operative phases of major surgery). Monitoring of renal function is recommended as a precautionary measure when using DICLON-P in such cases.
– Caution is indicated in elderly patients. In particular, it is recommended that the lowest effective dosage be used in frail elderly patients or those with a low bodyweight.
– Like other NSAIDs, DICLON-P may temporarily inhibit platelet aggregation. Patients with coagulation disorders should be closely supervised.
– Its pharmacodynamic properties mean that, DICLON-P may mask the signs and symptoms of infection.
– As with other NSAIDs, allergic reactions – including anaphylactic/anaphylactoid reactions – may even occur in the absence of previous exposure.
– DICLON-P contains aspartame, which may be harmful for people with phenylketonuria.
PREGNANCY (Category C) :
First and second trimesters : No controlled data involving pregnant women are available. During pregnancy, DICLON-P should be given only if absolutely essential, and only at the lowest effective dose.
Third trimester : DICLON-P is contraindicated owing to the possibility of uterine inertia and premature closure of the ductus arteriosus.
LACTATION :
Following oral doses of 50 mg every 8 hours, the amount of active substance excreted in breast milk is so small that adverse effects on the infant are unlikely.
CHILDREN:
Because of its strength, DICLON-P is not recommended for use in children below 14 years of age.
DRUG INTERACTIONS:
–  Lithium, Digoxin: DICLON-P may increase plasma concentrations of concomitantly administered lithium or digoxin.
– Diuretics and Antihypertensives : Like other NSAIDs, concomitant use of DICLON-P with diuretic or antihypertensives e.g. Beta blockers and ACEI may decrease the antihypertensive effects. Moreover, concomi­tant treatment with a potassium-sparing diuretic may be associated with an increase in serum potassium levels, which must therefore checked frequently.
– Anticoagulants Close monitoring of patients receiving diclofenac and anticoagulants concomitantly is recommended.
– NSAIDs :Concomitant administration of systemic NSAIDs may increase the frequency of adverse effects.
– Antidiabetic agents : Clinical studies have shown that diclofenac can be given together with oral antidiabetic agents without influencing their clinical effect. However, there have been isolated reports of both hypoglycaemic and hyperglycaemic effects during treatment with diclofenac, necessitating changes in the antidiabetic dosage.
– Methotrexate:Caution is called for if NSAIDs are administered less than 24 hours before or after treatment with methotrexate because blood levels of methotrexate rise and metho­trexate toxicity may increase.
– Ciclosporin: The effects of NSAIDs on renal prostaglandins may increase the nephrotoxicity of ciclosporin.
OVERDOSE:
There is no known typical clinical picture associated with an overdosage of diclofenac.
The following therapeutic measures should be taken: prevention of absorption as soon as possible by means of gastric lavage and activated charcoal. Supportive and symptomatic treatment should be given for complications such as hypotension, renal insufficiency, convulsions, gastrointestinal irritation and respira­tory depression.
Specific measures such as forced diureses, dialysis or haemoperlusion are unlikely to be helpful in accelerating the elimination of NSAIDs because of their high protein-binding and extensive metabolism.
DOSAGE AND ADMINISTRATION:
Adults The usual "dosage is 2-3 sachets of DICLON-P (100-150 mg) daily. In milder cases, as well as for children over 14 years of age, 2 sachets of DICLON-P daily are usually suffi­cient. The total daily amount should normally be given in 2-3 divided doses.
In primary dysmenorrhoea the daily dosage should be individually adjusted and is gener­ally 1-3 sachets. Initially a dose of 1-2 sachets should be prescribed.
 Migraine : An initial dose of 50 mg is recommended at the first sign of an impending attack. In cases where pain relief is inadequate approx. 2 hours after ingestion of the first dose, a further dose of 50 mg may be taken. If necessary, further 50 mg doses may be taken at intervals of 6-8 hours, although a total dose of 150 mg must not be exceeded within a 24 hour period. Diclofenac potassium should not be used for migraine prophylaxis.
Administration
Stir to dissolve the contents of a sachet in a glass of water, then drink. The solution may remain somewhat cloudy, but this has no effect on the effi­cacy of the medicinal product. The solution should preferably be taken before meals.
PACKAGING: Each box 20 sachets .
STORAGE : Store at room temperature , Don't store above 25Cº.Protect from moisture.