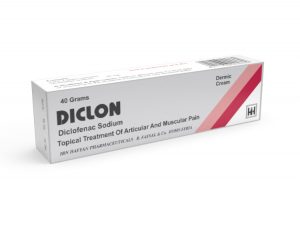 Packing :40 g.
Form : Cream
Theraputic Categories : Analgesics
Indications : NSAID
Composition :Diclofenac sodium 10 mg./1 g.
Composition:
Each 1 gram of cream contains 10 mg Diclofenac sodium .
Pharmacological Properties:
Diclofenac is a non-steroidal anti-inflammatory drug used for a variety of painful and inflammatory conditions. it is used as a topical analgesic for the relief of muscular and arthrous pain and stiffness symptoms.
Indications:              
DICLON cream is used topically for management of local pains ( back, neck, shoulder, and other joints) which could be resulted from :
– rheumatoid arthritis.
– tendonitis, tenosynovitis.
-traumas, sprains, strains and dislocations.
Contraindications:
Hypersensitivity to Diclofenac or other NSAIDs.
Precautions:
For external use only.
Apply only to intact skin, not to open wounds.
Don not cover with bandages or sticking plaster after applying the cream.
Avoid the contact with the eye and mucous membranes.
DICLON cream should be discontinued if skin rashes occur at the site of application.
Local application on wide-range areas may cause systemic effects.
Side effects:
The side effects almost rare and disappear after discontinuing the cream and may include :
Local hypersensitivity( itching, reddening, local erythema) photosensitivity.
Use in pregnancy and lactation:
Consult your doctor.
Dosage and administration:
To use DICLON cream ,thoroughly clean the infected area, allow it to dry, and then gently rub the medication in until most of it disappears. Use just enough medication to cover the affected area. repeat application 2-3 times daily.
Packing:
Tube containing (20-40) gram.
Storage: Store at controlled room temperature.