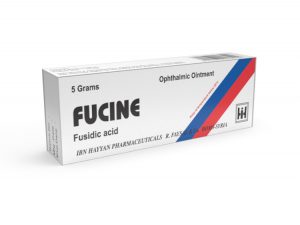 Packing :5 g.
Form : Opht. Ointment
Theraputic Categories : Ophthalmologic Drugs
Indications : Antibiotic
Composition :Fusidic Acid 10 mg./g.
Composition :
Each 1g of FUCINE ophthalmic ointment contains: Fusidic Acid   10 mg.
Pharmacological Properties:
FUCINE (Fusidic Acid) eye-ointment is a broad spectrum antibiotic which is active against a wide variety of susceptible micro-organisms including staphylococcus, streptococcus, Neisseria, Moraxella, and corynebacteria.
FUCINE eye-ointment penetrates well into the aqueous humour, and a twice daily application provides sufficient concentrations in all relevant tissues of the eye.
Indications:
FUCINE ophthalmic is used in the treatment of bacterial eye infections caused by susceptible organisms in conjunctivitis, blepharitis, sty, keratitis, dacryocysitis, and in connection with removal of foreign bodies.
Contra Indications and Precautions:
-Hypersensitivity to any of the components.
– Should not be used when contact lenses are being worn.
Side Effects:
Transient stinging may occur, FUCINE has a very low allergic potential.
Dosage and Administration:
Apply into conjunctival sac twice daily. Treatment should be continued for at least two days after the eye appears normal.
Packing: Tube of 5 mg.
Storage Conditions: Store at temperature below 25 º C.