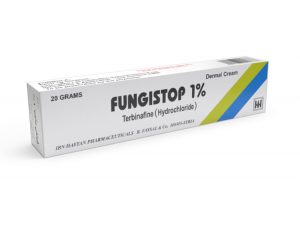 Packing :20g.
Form : Cream
Theraputic Categories : Dermatologic Drugs
Indications :  Antifungal
Composition :Terbinafine hydrochloride 1% w/w
COMPOSITION AND EXCIPIENTS
Active ingredient: Terbinafine hydrochloride 1% w/w
Inactive ingredients: Sodium hydroxide, benzyl alcohol, sorbitan monostearate, cetyl palmitate, cetyl alcohol, stearyl alcohol, polysorbate 60, isopropyl myristate, and demineralised water.
Pharmacodynamic properties
Pharmacotherapeutic group: Antifungal for topical use.
Terbinafine is an allylamine which has a broad spectrum of antifungal activity. At low concentrations terbinafine is fungicidal against dermatophytes, moulds and certain dimorphic fungi. The activity versus yeasts is fungicidal or fungistatic depending of the species.
Pharmacokinetic properties
Less than 5% of the dose is absorbed after topical application to humans; systemic exposure is therefore very slight.
Therapeutic Idications                   
Fungal infections of the skin caused by Trichophyton (eg. T. Rubrum, T.Mentagrophytes, T. Verrucosum, T. Violaceum), Microsporumcanis and Epidermophyton floccosum.
Yeast infections of the skin, principally those caused by the genus Candida (e.g. C. albicans).
Pityriasis (tinea) versicolor due to as Malassezia furfur.
Contraindications
Hypersensitivity to terbinafine or any of the excipients contained in the cream.
Warnings and Precautions
Trebnafine cream is for external use only. Contact with the eyes should be avoided. May be irritating to the eyes. In case of accidental contact with the eyes, rinse the eyes thoroughly with running water.
Pregnancy
Unless the potential benefits outweigh any potential risks, Trebnafine cream should not be administered during pregnancy.
Breastfeeding
Terbinafine is excreted in breast milk. Therefore mothers should not receive Trebnafine whilst breast-feeding. Infants must not be allowed to come into contact with any treated skin, including the breast.
Interactions
There are no known drug interactions with Trebnafine cream.
Side Effects
Local symptoms such as pruritus, skin exfoliation, application site pain, application site irritation, pigmentation disorder, skin burning sensation, erythema and scab may occur at the site of application.
These minor symptoms must be distinguished from hypersensitivity reactions such as widespread pruritis, rash, bullous eruptions and hives which are reported in sporadic cases but require discontinuation.
Overdose
The low systemic absorption of topical terbinafine cream renders overdosage extremely unlikely.
Adverse effects observed with an over dosage of Trebnafine include: headache, nausea, epigastric pain and dizziness.
If accidentally ingested, the recommended treatment of over dosage consists of eliminating the drug, primarily by the administration of activated charcoal, and giving symptomatic supportive therapy, if needed.
Dosage and Administration
Trebnafine can be applied once or twice daily.
The likely duration of each treatment is as follows:
| | |
| --- | --- |
| Tineacorporis, cruris: | 1 to 2 weeks |
| Tineapedis: | 1 week |
| Cutaneous candidiasis: | 2 weeks |
| Pityriasisversicolor: | 2 weeks |
Relief of clinical symptoms usually occurs within a few days. Irregular use or premature discontinuation of treatment carries the risk of recurrence. If there are no signs of improvement after two weeks, the diagnosis should be verified.
STORAGE: Store at temperature below 25 °C.
PACKING: One Aluminium tube 20g inside a carton box