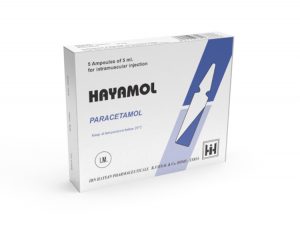 Packing :5 amp.
Form : Ampoules
Theraputic Categories : Analgesics
Indications : Non-opioid analgesic and Antipyretic
Composition :Paracetamol 150 mg. /2 ml.
Composition:
Each 1 ml contains Paracetamol 75 mg.
Properties and Indications:
HAYAMOL (Paracetamol) has analgesic and antipyretic properties. It is administered for the relief of mild to moderate pain and for pyrexia.
HAYAMOL (Paracetamol) is used intramuscularly for the management of various pain conditions and especially post-operative pain, and also used to reduce elevated febrile conditions of various origins.
HAYAMOL (Paracetamol) has proven effective analgesic that does not alter the biosynthesis of prostaglandins, which renders paracetamol safe to be used for patients with peptic ulceration.
Contraindications and Precautions:
HAYAMOL (Paracetamol) should be administered with caution to patients with impaired renal or hepatic function, or patients ingesting medicaments affecting the liver function.
Side Effects:
HAYAMOL (Paracetamol) is well tolerated, though, few cases of mild haematological reactions and rarely allergic reactions have been reported.
Laboratories and Drug Interactions:
– Uric acid and glycemia test results analogue may be altered when paracetamol is administered.
 Paracetamol may increase the half- life of chloramphenicol.
 It has been reported that paracetamol may alter the metabolism of the anticoagulant effect of warfarin.
Dosage and Administration:
Intramuscular injection: 75 – 375 mg. repeated as required at initial intervals of not less than 4 hours.
 Packing:
– Box contains 5 ampoules of 2 ml.
– Box contains 5 ampoules of 5 ml.
Storage: Store at temperature below 25 º C.