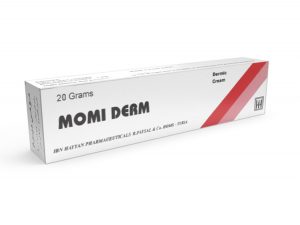 Packing :20 g.
Form : Cream
Theraputic Categories : Dermatologic Drugs
Indications : Steroidal anti-inflammatory .
Composition :Mometasone Furoate 1 mg./g.
Composition: Each 1 g. contains Mometasone furoate 1 mg.
Properties & Indications:
Momiderm (Mometasone furoate) is a potent synthetic corticosteroid. It has shown to possess anti-inflammatory properties and has proven highly effective in the treatment of corticosteroid responsive dermatoses primarily because of their anti-inflammatory, anti-pruritic and vasoconstrictive action, which renders Momiderm ointment or cream suitable in the treatment of dermatological disorders including eczema, erythema multiforme, lichen, atopic dermatitis, and for the relief of inflammatory allergic dermatitis, and other forms of allergic skin disorders, skin irritation, and pruritic manifestations.
Side Effects:
Momiderm ointment, cream is well tolerated, however, infrequent local adverse reactions have rarely been reported with the use of the preparation as recommended.
Most common side effects including burning sensation, itching, tingling at the site of application, and signs of skin atrophy may rarely be observed.
Contraindications & Precautions:
– The preparation should not be used in patients hypersensitive to the drug or any of its components.
-Treatment with corticosteroids for prolonged periods and/or without the doctor's advice is not recommended.
– Application of the preparation to large areas of the body or in excessive amounts, or for prolonged periods where the absorption of the active ingredients in high concentrations into circulation may likely produce functional disorders, especially in pediatrics.
-Application of corticosteroids to relatively large or eroded areas of skin or over macerated wounds, cuts and extensive burns should be avoided.
– Contact with eyes should be avoided.
-Not recommended to be used during pregnancy or lactation without medical consultation, and also for children under two years of age.
Dosage & Administration:
Apply a thin layer of Momiderm ointment or cream to the affected skin area once daily or according to the physicians' instructions.
Packing: Tube containing (20) g. Cream or Ointment.
Storage: Keep at temperature up to 30 ̊ C.