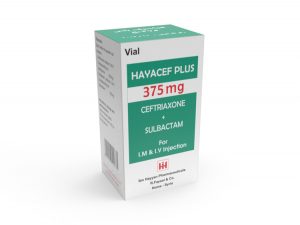 Packing :1 Vial
Form : Dry Vial
Theraputic Categories : Pediatric Drugs
Indications : Cephalosporin Antibiotic + B-lactamase inhibitor.
Composition :Ceftriaxone (Na) 250mg.+ Sulbactam (Na) 125 mg.
Composition and excipients: Active ingredients:
–  Each vial of Hayacef Plus 375mg contains: Ceftriaxone Sodium equivalent to 250mg Ceftriaxone ,Sulbactam Sodium equivalent to 125mg Sulbactam.
– Each vial of Hayacef Plus 750mg contains: Ceftriaxone Sodium equivalent to 500mg Ceftriaxone,  Sulbactam Sodium equivalent to 250mg Sulbactam.
– Each vial of Hayacef Plus 1500mg contains: Ceftriaxone Sodium equivalent to 1g Ceftriaxone, Sulbactam Sodium equivalent to 500mg Sulbactam.
Inactive ingredients: No Inactive ingredients
Mechanism of action:
The antibacterial component of this combination is due to the inhibition of cell wall synthesis attained by the Ceftriaxone. Sulbactam in this combination is a potent, highly specific inhibitor of a wide variety of beta-lactamases produced by common gram-negative and gram-positive aerobes and anaerobes. The combination of Sulbactam and Ceftriaxone sodium is active against all the organisms' sensitive of Ceftriaxone. In addition, it demonstrates synergistic activity.
Benefit of Modified formulation: Improved Efficiency as compared to Cefteriaxone alone after reconstitution with solvent, No toxic effects, Broader Spectrum Coverage and Improved results of bacterial MIC.
Pharmacokinetics:
Following intramuscular administration, peak serum concentrations of Sulbactam and Ceftriaxone are seen between 15minutes to 2hours. On intravenous administration, Ceftriaxone bactericidal concentrations lasting up to 24hours. Ceftriaxone is reversible bound to albumin and the binding decreases with the increase in concentration.
Ceftriaxone crosses placenta and is distributed in the amniotic fluid.
Approximately 75%-85% of Sulbactam and 50-60% of Ceftriaxone is excreted unchanged in the urine, while the remaining dose is excreted in the bile. The mean serum half-life of Sulbactam is approximately 1 hour.
Microbiology:
Gram-positive Aerobes: Staphylococcus aurous (including penicillinase-producing strains), Staphylococcus epidermidis, Streptococcus pneumonia, Streptococcus pyogenes, Viridans group streptococci.
Gram-Negative Aerobes: Acinetobacter  calcoaceticus, Enterobacter aerogenes, Enterobacter cloacea, Escherichia coli, Haemophilus influenza (including ampicillin-resistant and beta-lactamase producing strains). Haemophilus para-influenzae, Klebsiella oxytoca, Klebsiella pneumonia, Moraxella catarrhalis (including beta-lactamase producing strains), Morganella morganii, Neisseria gonorrhoeae (including pencillinase and nonpenicillinase-producing strains), Neisseria meningitidis, proteus mirabilis, Proteus vulgaris, Serratia marcescens.
It is also active against many strains of Pseudomonas aeruginosa.
Anaerobes: Clostridium species, Peptococcus species, Bacteroides species, including B. fragilis.
Indications:
This product is indicated for the treatment of the following infections:
Lower Respiratory tract infections
Acute Bacterial Otis Media
Skin infections
Urinary tract infections (complicated and uncomplicated)
Pelvic inflammatory Disease
Bacterial Septicemia
Bone and joint infections
Intra-Abdominal infections
Meningitis
Sexually transmitted diseases
Surgical Prophylaxis
The preoperative administration of this product reduces the incidence of postoperative infections in patients undergoing surgical procedures.
Contraindications:
It is contraindicated in patients with known allergy to penicillin or any other ingredients of the preparation.
Warning:
Serious or occasionally fatal hypersensitivity (anaphylactic) reactions have been reported in patients receiving bata-lactam therapy. If an allergic reaction occurs the product should be discontinued and appropriate therapy instituted.
Pseudomembranous colitis has been reported with the use of cephalosporins (and other broad-spectrum antibiotics). Treatment with broad-spectrum antibiotic alters the normal flora of the colon and may permit overgrowth of Clostridia. Studies indicate a toxin produced by clostridium difficile is the primary cause of antibiotic-associated colitis. Mild cases of colitis may respond to drug discontinuance alone. Moderate to serious cases should be managed with fluid, electrolyte and protein supplementation as indicated.
Precaution:
Transient elevations of BUN and serum creatinine have been observed.
Dosage adjustments should not be necessary in patients with hepatic dysfunction; however, in patients with both hepatic dysfunction and significant renal disease, Ceftriaxone and Sulbactam dosage should not exceed 3.0 g daily without close monitoring of serum concentrations.
Alterations in prothrombin time have occurred rarely in patients treated with Ceftriaxone and Sulbactam for injection. Patients with impaired vitamin K stores (e.g., chronic disease and malnutrition) may require monitoring of prothrombin time during this product treatment.
This product should be prescribed with caution in individuals with a history of gastrointestinal disease, especially colitis.
This product should not be administered to hyper bilirubinemic neonates, especially premature.
Pregnancy, Category B: 
No adequate and well-controlled studied in pregnant woman. This drug should be used during pregnancy only if clearly needed.
Lactation:
Low concentrations of Ceftriaxone are excreted in human milk. Caution should be exercised when this product in administered to a nursing woman.
Dosage and administration:
After reconstitution: it is advisable to use the solution immediately. Following are the recommendation for diluting the solution.
| | | | | |
| --- | --- | --- | --- | --- |
|   | Vol of solvent required to prepare the solution for IM use | Maximum final concentration in mg/ml | Vol of solvent required to prepare the solution for IV use | Maximum final concentration in mg/ml |
| 1.5g | 5ml | 200+100 | 10ml | 100+50 |
| 750mg | 2.5ml | 200+100 | 5ml | 100+50 |
| 375mg | 1ml | 250+125 | 3ml | 83.3+41.6 |
Adults: The usual adult dose is 1.5-3.0 g given once a day (or in equally divided doses twice a day) depending on the severity of infection. The total daily doses should not exceed 6.0 g.
Dosage regimen of this product should be adjusted in patients with marked decrease in renal function (creatinine clearance of less than 30ml/min) to compensate for the reduced clearance less than 15ml/min should receive a maximum of 500mg of Sulbactam every 12hours (maximum dosage of 1gm of Sulbactam).
Pediatric patient: The usual pediatric dose is 375 to 750mg given once a day (or in equally divided doses twice a day) depending on the type and severity of infection. The total daily doses should not exceed 1.5grams.
For the treatment of serious miscellaneous infections other that meningitis, the recommended total daily dose is 75 to 100mg/kg given in divided doses every 12hours. The total daily dose should not exceed 3.0gram. The usual duration of therapy is 7 to 14 days.
Generally, Ceftriaxone therapy should be continued for at least 2days after the signs and symptoms of infection have disappeared. The usual duration of therapy is 4 to 14 days, in complicated infections, longer therapy may be required.
When treating infections caused by Streptococcus pyogenes, therapy should be continued for at least 10 days. No dosage adjustment is necessary for patients with impairment of renal or hepatic function; however, blood levels should be monitored in patients with impairment (e.g. Dialysis patients) and in patients with both renal and hepatic dysfunctions.
Overdosage:
Limited information is available on the acute toxicity of this combination. There is no specific antidote. If acute overdosage of this combination occurs, Supportive and symptomatic treatment should be initiated. Hemodialysis or peritoneal dialysis is ineffective in reducing Ceftriaxone concentration following overdosage.
Storage : Hayacef Plus is to be stored between 20°C-25°C and protected from moisture and light.
Packing: Each box of HAYACEF PLUS (375mg,750mg,1500 mg) containing : 1 vial or 100 vial .