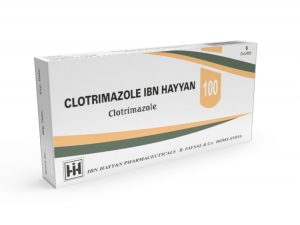 Packing :6 ouvles
Form : Ovules
Theraputic Categories : Gyno& obs Drugs
Indications : broad spectrum antifungal used for vaginal infections.
Composition :Clotrimazole 100 mg.
COMPOSITION AND EXCIPIENTS
Each Clotrimazole Ibn Hayyan ovule contains:
Active ingredient: Clotrimazole 100 or 200 or 500 mg.
Inactive ingredients: Hard, BHT.
Clinical Pharmacology
Clotrimazole is a broad spectrum antifungal agent that is used for the treatment of dermal infections caused by various species of pathogenic dermatophytes, yeasts, and Malassezia furfur. The primary action of Clotrimazole is against dividing and growing organisms.
Pharmacokinetics :
Pharmacokinetics investigations after vaginal application have shown that small amount of clotrimazole ( 3-10 % ) is absorbed. Due to the rapid hepatic metabolisation of absorbed clotrimazole into inactive metabolites the resulting peak plasma concentration of clotrimazole after vaginal application of a 500 mg dose were less than10 ng\ml , suggesting that clotrimazole applied intravaginally is unlikely to lead to measurable systemic effects or side effects.
Indications:
For the treatment of vaginal yeast infection
Contraindications
Clotrimazole is contraindicated in individuals who have shown hypersensitivity to any of their components.
Warnings
-Use only if the patient has already had a vaginal yeast infection diagnosed by a physician and the patient has  the same symptoms now, otherwise consult the physician. These symptoms include itching and burning of the vagina and, sometimes, a white discharge.
-If there is no improvement in 3 days or if symptoms have not disappeared within 7 days, then consult a physician as not all vaginal infections are caused by yeast.
-Consult a physician if the patient has abdominal pain, fever or foul-smelling vaginal discharge before or during use of this medication.
-If symptoms recur within 2 months consult a physician.
-should not be used in children under 12 years of age except on the advice of a physician.
-If skin rash or new irritation occurs, discontinue use.
Usage in Pregnancy  (Pregnancy Category B)
In clinical trials, use of vaginally applied Clotrimazole in pregnant women in their second and third trimesters has not been associated with ill effects. There are, however, no adequate and well controlled studies in pregnant women during the first trimester of pregnancy.
Nursing Mothers
It is not known whether this drug is excreted in human milk. Because many drugs are excreted in human milk, caution should be exercised when Clotrimazole is used by a nursing woman.
Pediatric Use
Safety and effectiveness in pediatric patients have been established for Clotrimazole when used as indicated and in the recommended dosage.
Drug Interactions
Concomitant medication with vaginal Clotrimazole and oral tacrolimus ( FK-506 immunosuppressant ) might lead to increased tacrolimus plasma levels. Patients should thus be thoroughly monitored for symptoms of tacrolimus over dosage, if necessary by determination of respectiveplasma levels .
Adverse Reactions
The following adverse reactions have been reported the use of Clotrimazole: erythema, stinging, blistering, peeling, edema, pruritus, urticaria, burning, and general irritation of the skin.
Dosage and Administration
Insert one ovule at bed time
For 500 mg as single dose treatment.
For 200 mg : once a day for 3 nights.
For 100 mg: once a day for 6 nights or twice a day for 3 days.
Course can be repeated one if necessary .
Overdosage
Acute overdosage with topical application of Clotrimazole is unlikely and would not be expected to lead to a life threatening situation.
Storage:Store at temperature below 30 ° C.
Packaging:Each box contains 6 ovules for each strength .