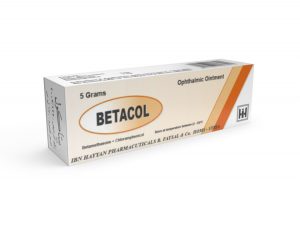 Packing :5 g.
Form : Opht. Ointment
Theraputic Categories : Ophthalmologic Drugs
Indications : Steroidal anti-inflammatory+ Broad spectrum antibiotic.
Composition :Betamethasone 2 mg. + Chloramphenicol 5 mg. / 1g
Composition:  Each gram contains :  Betamethasone …………. 2 mg
Chloramphenicol ….……. 5 mg
Pharmacological Properties:
Chloramphenicol is a broad spectrum bacteriostatic antibiotic which acts by inhibiting bacterial protein synthesis.
The anti-inflammatory antipruritic effects of betamethasone provides prompt control of acute and chronic inflammatory eye infections.
The combination formula of Betacol eye ointment has proven effective treatment of ophthalmic bacterial infections, margins of the eye lids and lacrimatory system infected by organisms sensitive to chloramphenicol and for which other antibiotics with less risk are inactive or contraindicated.
Indications:
– Betacol eye ointment is indicated in the treatment of ocular inflammations associated with complications involving pathogenic bacterial infections of the eyes including :
– Ophthalmic severe infections of non-ulcerous interstitial keratitis and of a nonviral nature, allergic and vernal conjunctivitis and blepharitis of an infectious nature, and inflammation of the anterior uvea, scleritis and episcleritis.
– Iritis and dacryocystitis.
– As prophylaxis after removal of foreign bodies.
– Pre and post – operative conditions, after surgery for glaueoma or corneal transplantation.
Contraindications:
– Hypersensitivity to any of the components, or toxic reaction to chloramphenicol.
– Use in new born infants or in patients with a history of bone marrow insufficiency is not recommended without medical advise.
– Viral infections ( herpes simplex ) and fungal infections.
– Injuries and ulcerous processes of the cornea.
– Glaucoma.
– Tuberculosis of the eye.
Side Effects:
– Prolonged use may result in overgrowth of non-susceptible organisms, sensitivity ( burning sensation stinging ).
– glaucoma, defects in visual acuity and field vision  may occur.
Drug Interactions:
– Betacol ophthalmic ointment should not be administered concurrently with other ophthalmic preparations containing antibiotics or sulphonamides.
– Simultaneous radiology or treatment with myelodepressant drugs should be avoided.
– When corticosteroids are used, the known interaction medicaments must be taken into account. However, in the case of topical use, these actions are not very important.
Precautions:
– Corticoid eye ointments should be used only upon medical prescription, and the doctors instructions should be carefully followed.
– Prolonged use may result in glaucoma, defects in visual acuity and field of vision, posterior subcapsular cataract formation,or may aid in the establishment of secondary ocular infections.
– Regular examinations with a slit lamp are recommended for early detection of epithelial defects and corneal ulcers.
– Long – term use of corticosteroids should be avoided without medical supervision.
– Should not be used in pregnancy without medical advice.
Dosage and Administration:
– Apply on eye or into conjunctival sac one centimeter ribbon of Betacol eye ointment 2 – 3 times daily and / or at bed time.
Packing:  Tube of 5 grams.
Storage: Store at temperature 2-25 C °.