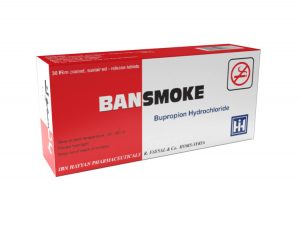 Packing :30 tab.
Form : S.R.F.C.Tablets
Theraputic Categories : Nervous System Drugs
Indications : Antidepressant and smoking-cessation aid.
Composition :Bupropion HCl 150 mg.
Composition: Each tablet contains 150 mg bupropion hydrochloride.
Pharmacological Properties:
BANSMOKE (bupropion hydrochloride) Sustained-Release Tablets are a non-nicotine aid to smoking cessation. BANSMOKE is chemically unrelated to nicotine or other agents currently used in the treatment of nicotine addiction. Bupropion is a relatively weak inhibitor of the neuronal uptake of norepinephrine, serotonin  and dopamine, and does not inhibit monoamine oxidase. The mechanism by which BANSMOKE enhances the ability of patients to abstain from smoking is unknown. However, it is presumed that this action is mediated by noradrenergic and/or dopaminergic mechanisms.
Indications:
BANSMOKE is indicated as an aid to smoking cessation treatment.
Contraindications:
BANSMOKE is contraindicated in : patients with a seizure disorder, patients treated with any other medications that contain bupropion,
patients with a current or prior diagnosis of bulimia or anorexia nervosa because of a higher incidence of seizures, patients undergoing abrupt discontinuation of alcohol or sedatives (including benzodiazepines).
The concurrent administration of BANSMOKE and a monoamine oxidase (MAO) inhibitor is contraindicated. At least 14 days should elapse between discontinuation of an MAO inhibitor and initiation of treatment with BANSMOKE.
BANSMOKE is contraindicated in patients who have shown an allergic response to bupropion.
Warnings:
Because the use of bupropion is associated with a dose-dependent risk of seizures, clinicians should not prescribe doses over 300 mg/day for smoking cessation. The risk of seizures is also related to patient factors, clinical situation, and concomitant medications, which must be considered in selection of patients for therapy with BANSMOKE.
The risk of seizure may be minimized if the total daily dose of BANSMOKE does not exceed 300 mg, the recommended daily dose for most patients (300 mg/day) is administered in divided doses (150 mg twice daily), No single dose should exceed 150 mg.
Predisposing factors that may increase the risk of seizure with bupropion use include history of head trauma, central nervous system (CNS) tumor, the presence of server hepatic cirrhosis, and concomitant medications that lower seizure threshold.
Clinical situations: Circumstances associated with an increased seizure risk include,  excessive use of alcohol or sedatives (including benzodiazepines); addiction to opiates, cocaine, or stimulants, and diabetes treated with oral hypoglycemics or insulin.
Many medications (e.g., antipsychotics, antidepressants, theophylline, systemic steroids) are known to lower seizure threshold.
BANSMOKE should be used with extreme caution in patients with severe hepatic cirrhosis. In these patients, a reduced frequency of dosing is required.
Precautions:
A patient should stop taking BANSMOKE and consult a doctor if experiencing allergic or anaphylactic reactions (e.g., skin rash, pruritus, hives, chest pain, edema, and shortness of breath) during treatment.
BANSMOKE may cause insomnia. Insomnia may be minimized by avoiding bedtime doses and, if necessary, reduction in dose.
Depressed patients treated with bupropion in depression trials have been reported to show a variety of neuropsychiatric signs and symptoms including delusions, hallucinations, psychosis, concentration disturbance, and confusion. In some cases, these symptoms abated upon dose reduction and/or withdrawal of treatment.
In clinical practice, hypertension, in some cases severe, requiring acute treatment, has been reported in patients receiving bupropion alone and in combination with nicotine replacement therapy.Monitoring of blood pressure is recommended in patients who receive the combination of bupropion and nicotine replacement.
Care should be exercised if BANSMOKE is used in patients with a recent history of myocardial infarction.
BANSMOKE should be used with caution in patients with hepatic and renal impairment and a reduced frequency of dosing should be considered.
Drug Interactions:
Coadministration of bupropion with drugs that are metabolized by CYP2D6 isoenzyme including certain antidepressants (e.g., nortriptyline, imipramine, desipramine, paroxetine, fluoxetine, sertraline), antipsychotics (e.g., haloperidol, risperidone, thioridazine), beta-blockers (e.g., metoprolol), and Type 1C antiarrhythmics (e.g., propafenone, flecainide), should be approached with caution and should be initiated at the lower end of the dose range of the concomitant medication.
Studies in animals demonstrate that the acute toxicity of bupropion is enhanced by the MAO inhibitor phenelzine.
Administration of BANSMOKE to patients receiving either levodopa or amantadine concurrently should be undertaken with caution, using small initial doses and gradual dose increases.
Concurrent administration of BANSMOKE and agents (e.g., antipsychotics, antidepressants, theophylline, systemic steroids, etc.) that lower seizure threshold should be undertaken only with extreme caution.
Monitoring of blood pressure is recommended in patients who receive the combination of bupropion and nicotine replacement.
Physiological changes resulting from smoking cessation itself, with or without treatment with BANSMOKE, may alter the pharmacokinetics of some concomitant medications, which may require dosage adjustment.
The consumption of alcohol during treatment with BANSMOKE should be minimized or avoided.
Use in Pregnancy: Category B:
This drug should not be used during pregnancy unless is clearly needed.
Nursing Mothers:
Bupropion and its metabolites are secreted in human milk. Because of the potential for serious adverse reactions in nursing infants from BANSMOKE, a decision should be made whether to discontinue nursing or to discontinue the drug, taking into account the importance of the drug to the mother.
Adverse Reactions:
The most common events leading to discontinuation of treatment with BANSMOKE included nervous system disturbances, tremors, and skin disorders, rashes.
The most commonly observed adverse events consistently associated with the use of BANSMOKE were dry mouth and insomnia .other side effects that could occur: allergic reactions, hot flashes, hypertension, increased appetite, anorexia, myalgia, dizziness, tremor, bronchitis, pruritus, asthenia, fever, headache, dyspepsia, flatulence, vomiting, agitation, depression, irritability, sweating, amblyopia, urinary frequency.
BANSMOKE is likely to have a low abuse potential. The possibility that bupropion may induce dependence should be kept in mind when
evaluating the desirability of including the drug in smoking cessation programs of individual patients.
Dosage and Administration:
The recommended and maximum dose of BANSMOKE is 300 mg/day, given as 150 mg twice daily. Dosing should begin at 150 mg/day given every day for the first 3 days, followed by a dose increase for most patients to the recommended usual dose of 300 mg/day. There should be an interval of at least 8 hours between successive doses. Doses above 300 mg/day should not be used.
Treatment with BANSMOKE should be initiated while the patient is still smoking, since approximately 1 week of treatment is required to achieve steady-state blood levels of bupropion. Patients should set a "target quit date" within the first 2 weeks of treatment with BANSMOKE, generally in the second week. Treatment with BANSMOKE should be continued for 7 to 12 weeks; longer treatment should be guided by the relative benefits and risks for individual patients.
If a patient has not made significant progress towards abstinence by the seventh week of therapy with BANSMOKE, it is unlikely that he or she will quit during that attempt, and treatment should probably be discontinued. Conversely, a patient who successfully quits after 7 to 12 weeks of treatment should be considered for ongoing therapy with BANSMOKE. Dose tapering of BANSMOKE is not required when discontinuing treatment.
Nicotine dependence is a chronic condition. Some patients may need continuous treatment. Systematic evaluation of BANSMOKE 300 mg/day for maintenance therapy demonstrated that treatment for up to 6 months was efficacious.
Combination treatment with BANSMOKE and NTS(nicotine transdermal system) may be prescribed for smoking cessation.
Packing: Box containing 20 or 30 f.c tablets.
Storage: Store at controlled room temperature, 20° to 25°C, protect from light.